The Japanese Animation section of this year's Tokyo International Film Festival (TIFF, October 30-November 8) will feature looks into the media's past and present, as well as a retrospective of one of the action series at Japan's most beloved special effects.
The aim of the section, which is now in its third year, is to serve as "a place to showcase what Japanese animated films are all about, both nationally and internationally," says Ryota Fujitsu, Programming Advisor .
While last year's retrospective focused on Pokemon This year's anime franchise revolves around Yasuo Otsuka, an acclaimed animator who died earlier in 2021 at the age of 89.
Otsuka may not have the same international fame as maestros like Hayao Miyazaki or Isao Takahata, but his work as animator and animation director strongly influenced the two co-founders of Studio Ghibli, the first of whom was going to direct the Oscar. winner Abducted as if by magic (2001).
Born in 1931, Otsuka worked as an animator on The Enchantress White Snake (1958), Japan's first full-color animated film, before joining Toei Animation and inspiring Miyazaki, Takahata and a host of other animators while working alongside them on titles such as Lupine III and Future Boy Conan.
Otsuka's contribution to the anime was to develop "a style of animation that created a sense of reality and dynamism by introducing jagged lines of motion," says Fujitsu.
The two films that will showcase Otsuka's influential animation style at the festival are The Little Prince and the eight-headed dragon (1963), made at the start of his career, and Chie The Brat: Downtown History (1981), directed by Otsuka's mentee Isao Takahata, who would go on to co-found Studio Ghibli. The retrospective is completed by Hyouhyou: Haikei, Otsuka Yasuo-sama (2015), a recent documentary on Otsuka.
Meanwhile, the current state of Japanese theatrical animation will be represented by four recent or upcoming films: Ayumu Watanabe's Fortune favors Lady Nikuko, that of Seiji Mizushima Hula Fulla Dance, Masaaki Yuasa Inu-Oh, who starred in the Horizons section of the Venice Film Festival this year, and the world premiere of Atsuko Ishizuka's film Goodbye, DonGlees.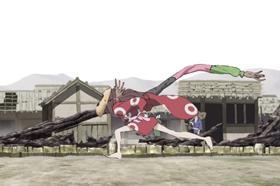 This year, rather than deciding on a theme and picking films that fit that theme, Fujitsu has gone the other way, picking films from renowned directors and seeing what connects them. He found that all four feature films deal with themes that aren't typically addressed in animation, including the 2011 earthquake and tsunami in eastern Japan, poverty, single motherhood, and song and dance. historic Noh.
Traditionally, the most popular Japanese animated titles have featured elements of fantasy or science fiction, but there is "a continuing trend towards works that are far from robots and magic, and which deal with difficult subjects." , explains Fujitsu.
"At the same time, these fantastic titles continue to be produced," he adds. "It shows how Japanese animation has become a very diverse medium."
The section will also feature selections from a series of live tokusatsu (special effects): the long Kamen Rider (Masked Horseman), which debuted in 1971 and features motorcycle superheroes who battle evil villains while wearing insect-shaped masks.
The franchise has operated virtually non-stop on television and in theaters since its inception, and is a staple with Japanese children (and often their parents, who grew up in previous incarnations). Its continually updated heroes and villains represent the values ​​and issues of the day, much like Doctor Who in the UK or Star Trek in the USA.
"The series from the early 1970s described 'justice' as something fixed and unwavering, but more recent series have a more nuanced take on what 'justice' means. We can keep up with such changes because of the franchise's long history, "says Fujitsu.
Finally, the Japanese Animation section will offer three master classes, covering Yasuo Otsuka, the selection of modern animated films, and Kamen Rider. Each will be moderated by Fujitsu and feature a variety of guests.