NEW | FEATURES | PREVIEWS | EVENTS
originally published: 09/07/2022
(WEST WINDSOR, NJ) — West Windsor Arts is once again hosting the Trenton Community A-TEAM for an exhibition August 30-October 29 at the West Windsor Arts Gallery to showcase their artists. The Opening Reception will be held on September 11 from 4:00 p.m. to 6:00 p.m. at West Windsor Arts, free and open to the public.
The A-TEAM artists of Trenton began as a group of artists who regularly use the services of the Trenton Area Soup Kitchen (TASK). The artists' cooperative was formed in 2001 and meets weekly at the TASK multipurpose room. Working in a supportive environment, the A-TEAM works together as a group to support and encourage each other to succeed.
One of the highlighted artists who is featured in the exhibition is Charles 'Cha Cha' Smith. his piece, enter the world (shown at the top of this article) emulates the very "out of this world" feeling that comes with the idea of ​​space. At the age of nineteen Smith learned the shape of the stars and from there his art was touched by the celestial beyond. "At the beginning, I made cities, then I caught ideas of space. I made spaceships. I can also make cars and robots. I make crazy robots – weird faces and crazy hats. I draw robots that look out of the ordinary and cars that could be on the moon," Smith explains. "I was always in space because we live on a planet and we are in space."
Another of the artists featured in the exhibition is Herman 'Shorty' Rose. his piece, Pretty Woman (indicated below) is a picturesque portrait that could be mistaken for a photograph. It is embellished with a smooth circular frame that accentuates the colors of the artwork. Rose learned how to make picture frames and other things in his twenties while in prison. Along the way, gaining the ability to use whatever resources he had," I use any kind of paper and plastic garbage bags and tape. I sew the frames together with string and a needle that I made from a piece of plastic. The glue would spoil the pictures. I choose pictures that I think go well with the frames, and cover them with clear tape so they last. In 1998, he was introduced to the soup kitchen where the A-TEAM was born. Starting out as someone to go to for coaching, Rose found her artistic side with the A-TEAM. "By the grace of God, I'm going to keep making my art until I can't do it anymore. When I make art, I feel perfect.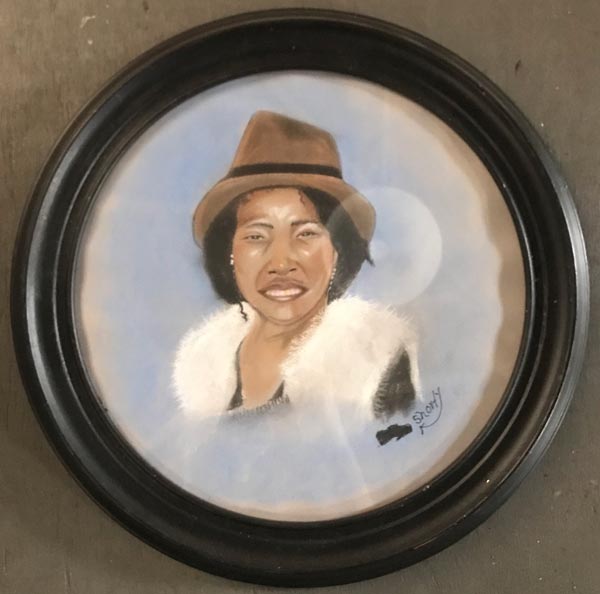 Lisa Lewis is also included as an artist in this exhibit. His work, Storm, is a mixed-media textured painting that captures the crisp movements of what might be seen during a storm. Lewis was inspired by her husband to start making art. She had done it before as much as the average person would, but didn't feel confident enough to really pursue it until he gave her his support. While studying for his GED test, Lewis was at the soup kitchen and eventually joined the A-TEAM. "I love being part of the A-TEAM because it's like a big extended family. I never set my alarm except for A-TEAM on Tuesdays. She continues to explore her creativity and help others find that spark in them. "I will continue to make art in the future. It is a positive outlet; that's what I think."
Exhibiting artists: Dolores Frails, John Hayes, Carol Johnson, Warcheerah Kilima, Deborah Kisela, Lisa Lewis, Ethel Mack, Frankie Mack, Paul Norris, Jim Prokolyshen, Herman "Shorty" Rose, Charles "Cha Cha" Smith, Demond Williams and Emery Williams.
The mission of West Windsor Arts Council is to provide high quality cultural programming that brings people together and transforms the world around us by inspiring, educating and promoting the arts and the appreciation of the arts for our diverse community.The West Windsor Arts Center is located at 952 Alexander Road, West Windsor, and a five-minute walk from Princeton Junction train station. Opening hours of the secretariat and the gallery: by appointment. Call 609.716.1931 or write [email protected].
Advertise with New Jersey Stage for $50-$100 per month, click here for more info
---
The Trenton Community A-Team supports, develops and promotes self-taught local artists because art can be transformative by reframing the artist's connection to self and others and building community pride. Trenton Community A-TEAM is located at 51 North Stockton Street, Trenton.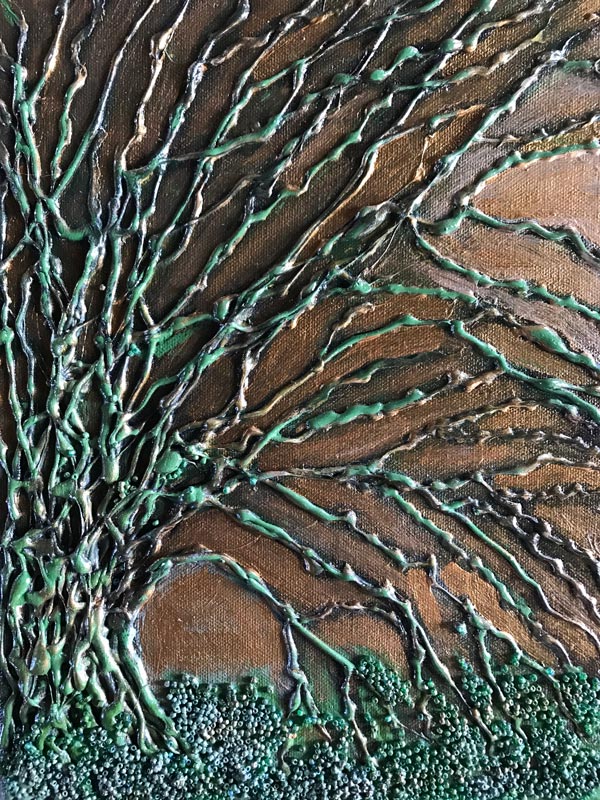 Storm by Lisa Lewis
Advertise with New Jersey Stage for $50-$100 per month, click here for more info
---