AppleInsider is supported by its audience and is eligible to earn an Amazon Associate and Affiliate Partner commission on qualifying purchases. These affiliate partnerships do not influence our editorial content.

The Home app has been redesigned with a focus on simple navigation and improved controls in iOS 16. Here's what's new.
As Apple improved its support for more types of devices in smart homes, it did little to change the way the Home app interfaced with them. User homes grew and quickly became unmanageable as enough devices, scenes, and rooms were added.
This problem was finally fixed in iOS 16 with an all-new Home app focused on managing large groups of devices. The Rooms tab is gone, with everything related to controlling your home accessories in the Home tab.
The old Home app
The original Home app was designed on the assumption that users would have a handful of devices controlled via scenes or single-press buttons. This is exemplified by the Home tab's emphasis on bookmarks and nothing else.
The Home tab could be quickly overwhelmed since each new scene or device is automatically shown as a favorite, and users are expected to delete the ones they don't want. When manually selected, the Home tab was useful but still didn't provide a good overview of the house as the tab name suggested.
The old home interface was clunky and made things hard to find
Users had to go to the Rooms tab to control specific devices that were not favorites. Once the tab was selected, a single room would take over the entire interface, and the user had to swipe between rooms to access the various accessories.
If your house had more than a few rooms, it was tedious to walk through each room to turn on a light in the hallway. Siri could complete this task faster if you knew the exact incantation to turn on the desired light, but this feature was often hit or miss.
Overall, the app wasn't well thought out, and Apple seemed to assume users would use Siri anyway. More serious smart home users with dozens of devices should figure out all the hidden menus to get everything perfectly personalized.
The Home app in iOS 16
Apple has fixed almost all the issues with the Home app in the iOS 16 update. While some issues remain, like the lack of device icon options, organization and control has improved dramatically.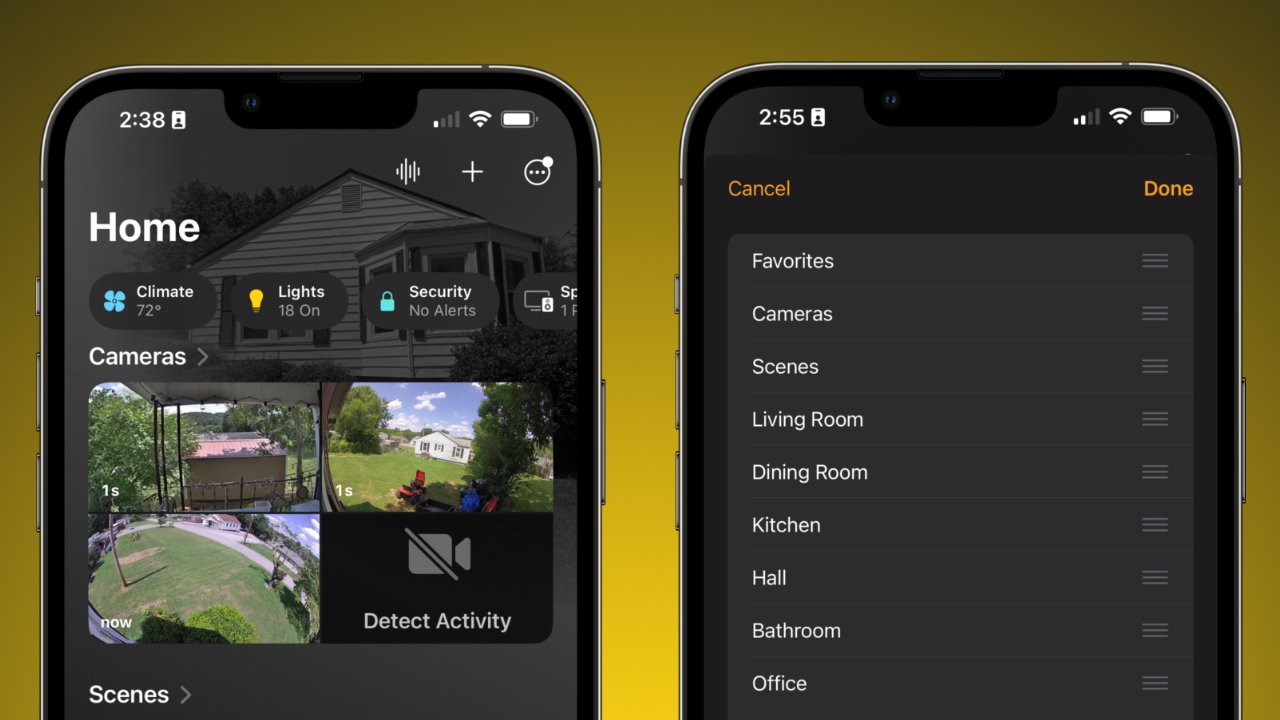 Redesigned interface allows for better customization and more controls at a glance
The Parts tab is removed entirely, with its functionality integrated into the new Home tab. Now users have everything they need to control their home in one tab: the Home tab.
Each device, control, sensor, and room is displayed on the Home tab. It's divided into different sections, starting with Favorites, Cameras, and Scenes, followed by a section for each room.
Everything is displayed on this list by default, but a user can tap and hold a device to hide it from the Home tab. After all devices are hidden, the section is removed but not deleted.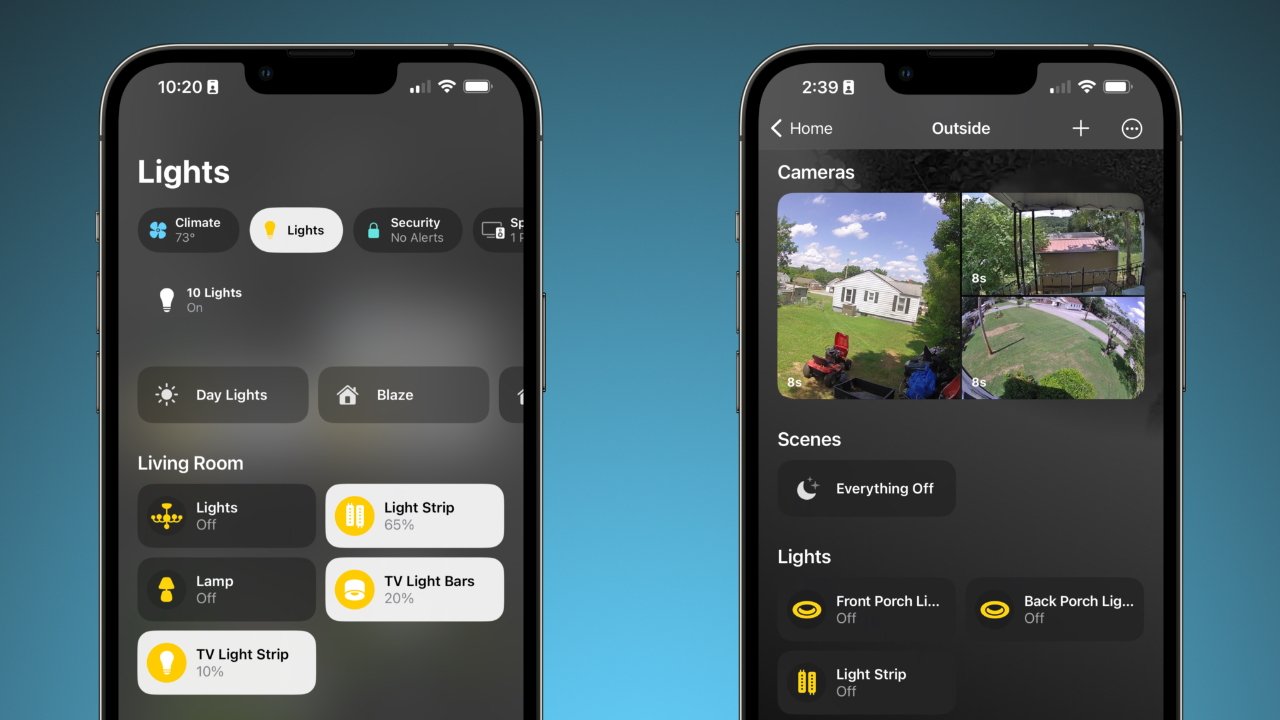 Filter by device type or select a room for a more specific view
To access any room, even those that are hidden in the Home tab, use the ellipsis in the upper right corner. These options allow the user to regularly display all the controls they are looking for without losing the main organizational features provided by rooms and zones.
The top section with live statuses for each product category is also much more useful. Sections for climate, lights, security, speakers, and water provide quick access to any device in those categories.
The Home tab is also fully customizable so that each section can be ordered as the user wishes. Speaking of personalization, Apple has also introduced new wallpapers, but we really like the Home Paper app to create our own.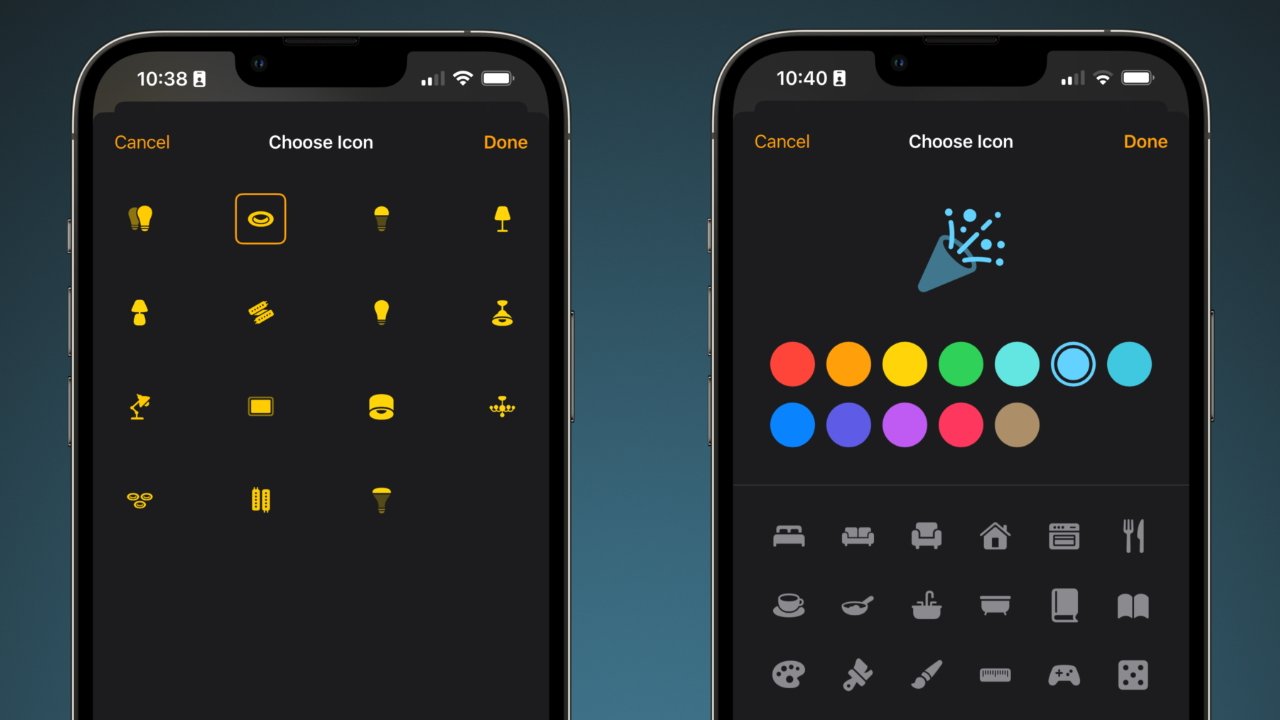 New device icons and custom scene icons are available in iOS 16
Apple added a handful of new icons for devices like lights, water, and blinds, but the selection is still dark. It's unclear why Apple doesn't offer more device icon options or at least give HomeKit devices the option to have custom icons added by the manufacturer.
Scenes have a wider variety of icons and can have colors added similar to shortcuts. However, it's still a paltry handful of icons compared to the vast library of Apple-owned icons in the San Fransisco font.
Matter and what follows
Apple hasn't spent a lot of time talking about Matter, but it's a standard that's expected to launch in the fall alongside iOS 16. It's a HomeKit-based standard and will add more wide variety of accessories to an Apple Home.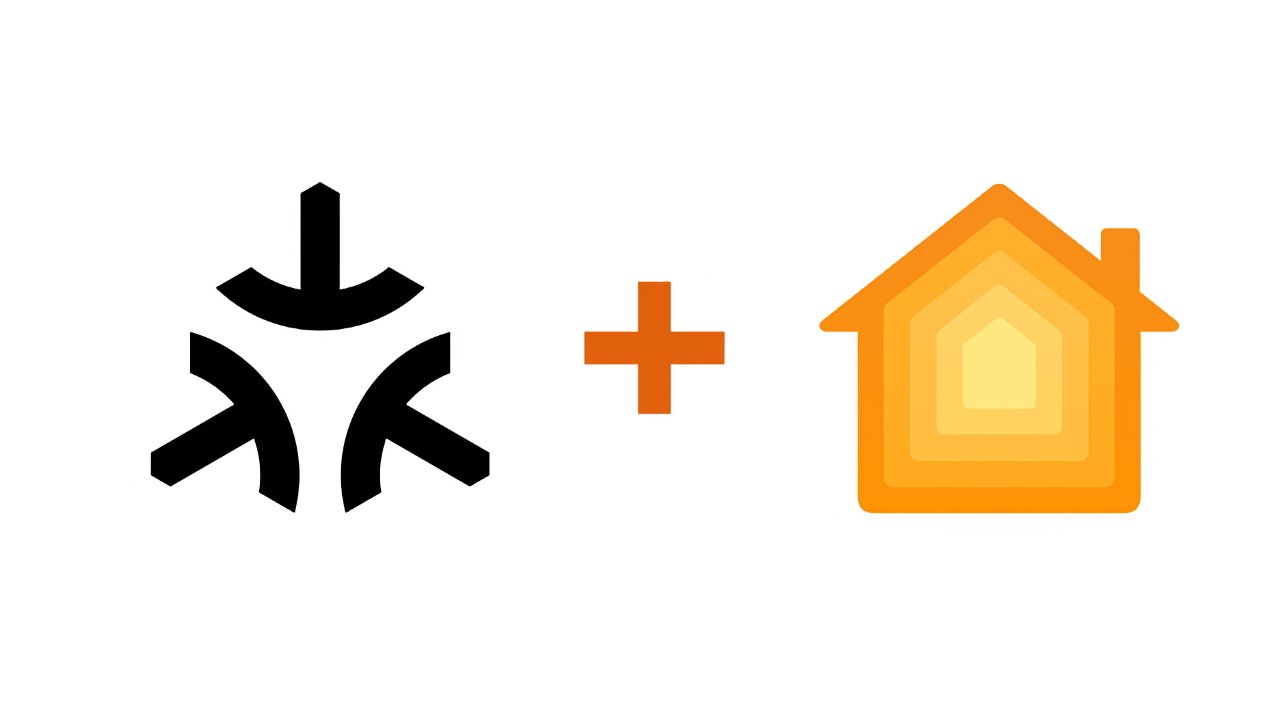 Matter will enable broader compatibility with smart home devices for HomeKit
The full implications of Matter are not yet known, but it could open up the possibility of new types of accessories and controls in later updates. For example, robot vacuums may soon be a recognizable HomeKit device thanks to Matter.
None of the Matter implementation details are visible to the user in the iOS 16 beta. Once iOS 16 launches and Matter exits beta, Apple may announce new product categories and other Home app updates.